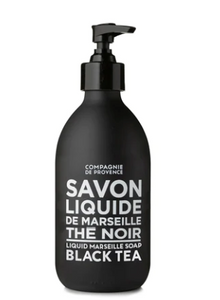 Made in a cauldron according to tradition, as does its ancestor, the authentic cube from Marseille, this liquid soap is elaborated with vegetable oils. Naturally glycerined, it gently cleanses the skin. Presented in a lacquered glass pump-bottle with a timeless and contemporary design which uses the strength of contrast to create an inspiring graphic universe.
Fragrance: A gentle fragrance created in Grasse, with notes of black tea and blackberry.
Size: 10 fl. oz.
Ingredients: Aqua (Water), Potassium Cocoate, Parfum (fragrance), Glycerin, Hydroxyethylcellulose, Polyglyceryl-3 Caprylate, Cocos Nucifera (Coconut) Oil, Tetrasodium EDTA, Linalool, Limonene, BHT.