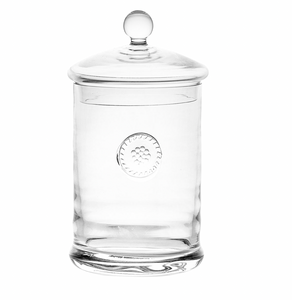 A versatile lidded vessel to beautifully hold and display a trove of treasured keepsakes - from seashells to the wishes of loved ones! Our own Juliska tradition, we use our "wish jar" throughout the year as a container to fill with handwritten notes of scribbled hopes and desires (from roller skates to pottery classes). Officially making the job easier for that Jolly Man in Red during the holiday season, and ensuring that no gift is forgotten. Heirloom-worthy, we adore giving these as gifts! 
Measurements: 3.5"W x 6.5"H x 3.5"L
Made of: Glass
Dishwasher safe, warm gentle cycle. Not suitable for hot contents, freezer or microwave use.