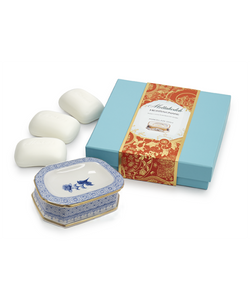 Enjoy one of our best loved designs with this Cornflower Lace dish that exactly fits our guest soap. This sensual and brilliant soap is a pure delight, combining the intensity of blooming rose, jasmine and tart cassis with the richness of fleshy Damascus plum and white peach. A base of golden sandalwood and liquid amber completes this unique blend.

Essential Oils: Geranium, Cinnamon and, Elemi. 3 Bars of 2.25 oz. each. Soap made in the U.S.
Delivered in a turqouise handmade box with gold and coral trim. Licensed product of Historic Charleston
Width

 

31/3 inches

Length

 

Dish 4 1/4 inches

Volume

 

3 Bars of 2.25 oz. each.