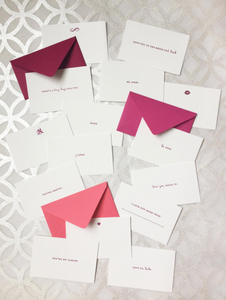 Love Emoticards - 15 little messages with tiny envelopes to spread a little love!
Too small to mail, perfect for hand delivery!
Size of card 3.375" x 2"
Includes:
-5 pink, 5 coral, 5 purple tiny envelopes
-1 of each of the following messages/images
Love ya, babe
Be mine
Love you to the moon and back
(heart)
xoxo
J'adore
(lips)
Mi amor
Here's a tiny hug for you
You're pretty
(eternity)
You're my always
Love you, mean it.
I love you more than ___
(cupid)