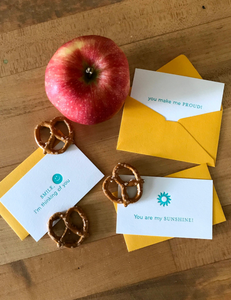 Lunch Box Notes - 15 little letterpress messages with tiny envelopes for a surprise in your little one's lunch!
Too small to mail, perfect for hand delivery!
Size of card 3.375" x 2"
packaged in a clear sleeve
Includes
-15 yellow tiny envelopes
-1 each of the following cards(some with symbols):
Smile, I'm thinking of you
You make me proud
Good Luck!
Can't wait to hear about the fun things you learned today
Do your best!
Be brilliant
You are one smart cookie!
I can't wait to __________ when you get home
You got this!
You are my Sunshine!
Be-you-tiful!
It's Friday - Happy Dance
Eat Your vegetables - and we'll have a cookie when you get home.
Don't worry, be happy
Love you more!