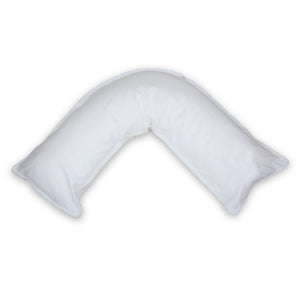 The Jetsetter is ready for takeoff! The neck-hugging design provides luxury and comfort without taking up your whole carry on bag. Also, great to use while reading or watching your favorite show. Includes a removable 300 thread count washable cotton sateen zippered protector and custom embroidery of your choice. Down Alternative fill contains a proprietary blend of combed polyester fiber designed to mimic the luxurious density and loft of naturally-sourced down.

Dimensions: 14 in x 14in 
Care: Regularly washing your zippered pillow protector and bed linens can help extend the life of your product and keep it fresh, fluffy and supportive.