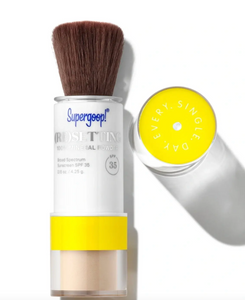 Complete your look with this 100% mineral, non-nano setting powder with SPF that sets makeup and mattifies skin. Perfect for all skin types, this formula smooths skin's appearance and reduces shine. Brush on throughout the day to reapply SPF.
 Note: (Re)setting 100% Mineral Powder SPF 35 Refill is not compatible with old packaging.
.15 oz.
Remove the cap and slide down the clear plastic sleeve. Remove and discard the plastic yellow pin at the center of the brush.
Twist the body of the brush from the CLOSED position to OPEN. Tilt and tap the brush gently against your wrist until you see the powder start to flow through the bristles.
When your makeup is ready to go, brush the powder generously over your face to set the look and mattify your skin. Reapply throughout the day as needed.
To close, twist the body of the brush from the OPEN position to CLOSED, pull up the clear plastic sleeve and snap the cap back on.
All Skin Types. Matte Finish.