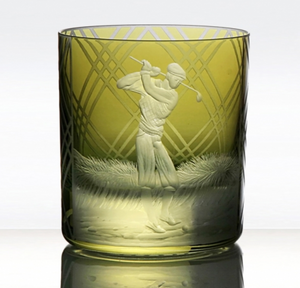 With its exquisitely detailed images of dashingly well-dressed athletes, ARTĚL's Sporting Collection takes a nostalgic look back to the Golden Age of sports in the 1920s. The collection is comprised of six different sports-themed motifs – Golf, Grand Prix, Polo, Rowing, Skiing, and Tennis – which are available either individually or as a set of six glasses (sets include one glass with each design). Each glass features a hand-engraved depiction of 1920s-era athletes in motion, centered against an elegant background of sandblasted intersecting lines.
Inspired by period photographs and drawings from posters, postcards, and magazines found in Prague antique shops, the Sporting Collection is certain to appeal to sports enthusiasts and design aficionados alike.
The Double Old Fashioned is perhaps the most versatile glass in any barware set, it is perfect for whiskey or any other on-the-rocks beverage.